Welcome aboard!
The 2-Night Cruise Vacations departs every other day of the week from the Port of Palm Beach at 6:00pm. Boarding starts at noon, that's when the fun begins with a delicious buffet lunch, drinks by the pool and a full slate of fun activities. (Guests are required to be on board 90 minutes prior to departure).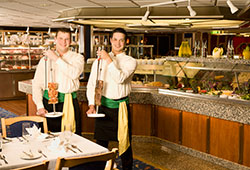 The Celebration, is both spacious and intimate at the same time, holding up to 1,500 passengers. There is so much to do on the ship and so many ways to have fun and unwind that every passenger will have his or her own unique and special cruise experience. Whether sailing as a couple, as a family, with friends, celebrating a special occasion or participating in an event at sea, there is something for everyone on the beautiful Celebration.
Dining Options The four delicious dining options include a classic American restaurant, serving five-course meals from a broad menu, an all-you-can-eat Brazilian-style steakhouse and buffet and a casual Italian restaurant, all as part of the cruise price. For individuals looking for more upscale dining, the elegant and romantic Cove Restaurant is available at an additional cost.
Adult Fun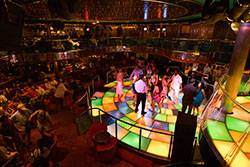 Indulge your playful side and experience adult recreation at its finest!
Pampering & Wellness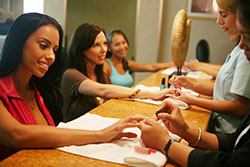 Cruising is all about escaping the hectic outside world, and rejuvenating your mind and spirit from all the stresses around you. Relax on deck by taking a dip in one of our two refreshing pools. And for a little invigorating exercise, plan a workout in our fully equipped fitness center. For the ultimate self-indulgence, revitalize yourself in our therapeutic bliss-inspiring Spa & Salon. It will elate your senses.
Grand Bahamas Island Excursions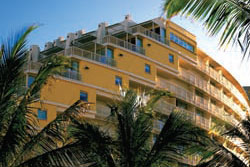 Celebration cruise guests can enjoy an incredible variety of pleasurable activities, whether staying for the day or for an extended stay. Of course, it's a tropical island so snorkeling, swimming with dolphins, deep sea fishing, jet skiing, parasailing, and Glass Bottom boat tours are all good options. But don't forget about golf, nature tours, horseback riding and shopping if you want to stay dry.
Kids World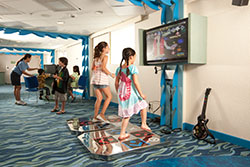 A Celebration Cruise gives families an opportunity to spend quality time together and create lasting memories while exploring exciting new places. Our family-friendly cruise ship also has everything young cruisers want in our Kid's Clubs to have fun without Mom and Dad. Kids can play with new friends in a cool age-appropriate setting, while enjoying a wide range of exciting activities designed for them. And Mom and Dad have an opportunity to spend some adult-time together enjoying the rest of the ship!
For your convenience we have Fort Lauderdale airport shuttle service available at competitive rates. Port of Miami and Miami Airport are only 18 miles apart. Fort Lauderdale Airport is only 10 Miles from Broward convention center and Cruise Port Everglades. Miami Beach Convention Center is only 35 miles from Fort Lauderdale Airport. Find all the pre and post Fort Lauderdale hotels near the cruise ports or airports. Convenient airport shuttles and cruise port shuttles are available at reasonable rate. Don't forget to enjoy the tours of Miami and Fort Lauderdale and the Florida Keys at competitive rates.